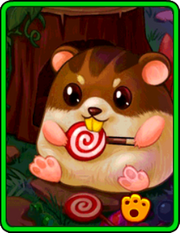 Ladar belongs to the "Normal" category and is the second pet found in Moloo Land.
Description
Edit
"This swift rodent is a bit cute but it always likes to steal stuff and dig."
Appearance
Edit
Ladar is a small hamster with brown fur of different shades. It has small, brown eyes and yellow teeth. It is also seen nibbling on a lollipop when outside of battle, indicating it likes lollipops.
Evolution
Ladar evolves into Diladar at Level 13. Its final evolution is Moore, at which Diladar manages to learn a few fire skills.
Ad blocker interference detected!
Wikia is a free-to-use site that makes money from advertising. We have a modified experience for viewers using ad blockers

Wikia is not accessible if you've made further modifications. Remove the custom ad blocker rule(s) and the page will load as expected.